Tuesday, 22 November 2016
I can't believe it was a BBC program 'Italy Unpacked' that made me think of planning a trip to Matera. I said I cannot believe it as I have been travelling to the south of Italy all my life,  my father was from nearby Campania
Matera is in the region of Basilicata, south of Italy. As our wedding anniversary was far approching I booked one night at the unique hotel Sextantio Le Grotte della Civita .This is an 'albergo difusso' (in Italy diffused hotels respect original heritage of the place) located in the most ancient Sassi of Matera, facing the Murgia National Park. With its 18 cave rooms, a breakfast room built in what is was originally a Rupestrian Church and astonishingly beautiful views over the rocky mountains, you won't find a better place to stay in this town!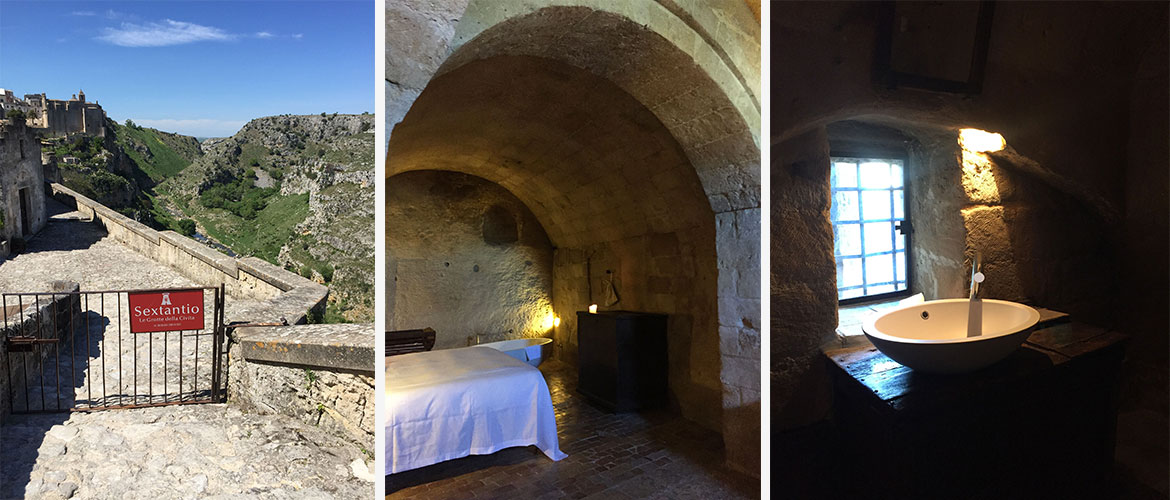 On arrival to Matera the first thing you notice are the 'sassi', the famous rocks of Matera that will leave you grasping for air and with a strong urge to discover every little corner of this ancient town. There are thousands of steps in Matera but after a few you will instantly realise why this small town in Basilicata was declared Unesco World Heritage Site in 1993.
"Matera has been chosen as European Capital city 2019, so just before everybody gets there hurry and book your holiday at this very enchanting place".
Matera is one of the most ancient towns in the wold, its history running from the early Iron Age up to the Greek and Roman empire. Situated on the top of a big hill, your first impression will be to be looking at a giant nativity scene. A labyrinth of old caves, houses, steps and beautiful churches are divided into two main Sassos, 'Sasso Barisano' and 'Sasso Caveoso' The town centre is in Sasso Barisano where you will find the best views of this part of part of town looking down from the Piazza Duomo. Here you can visit the beautiful Duomo, the church of San Francesco di Assisi, or the Monastero di Sant Agostino where you can also take award winning pictures of this unique town.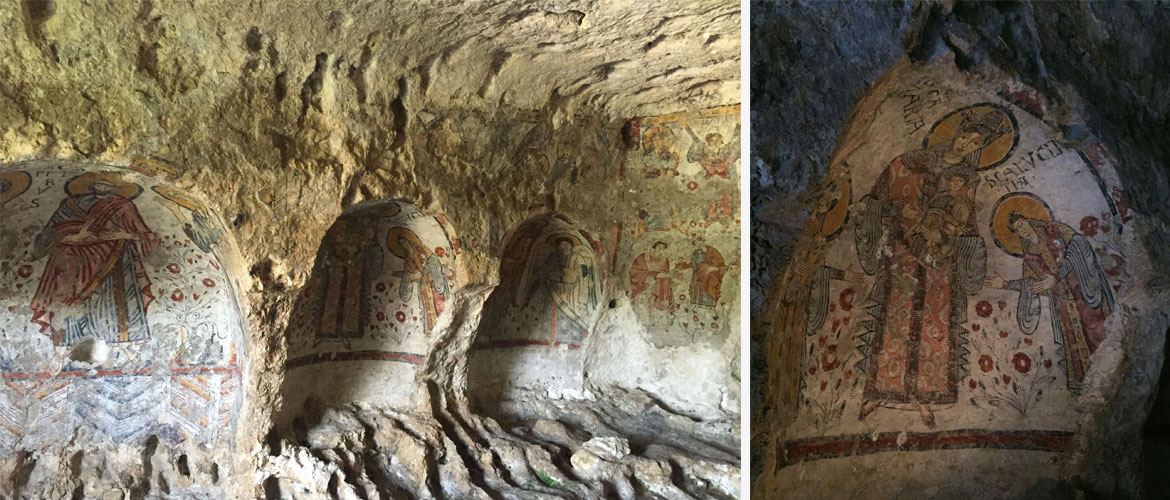 In Sasso Caveoso you will find a rich archeological area with a unique little rupestrian church, the Church of Santa Maria De Idris. This would be a good place to start appreciating what Matera rupestrian art is all about, graphical or sculptural works left in hillsides, rocks or in the walls of caves/grottos. From here you could walk all the way up to Piazza Giovanni Pascoli where you will find an ideal spot for panoramic pictures of this archealogical Sasso. In this piazza you can have a rest at the lovely Lanfranchi Caffe and walk along the very trendy Via Ridola. In this street you will find lots of artisan's shops plus another original church, the Chiesa del Purgatorio, a great example of Italian baroque style with spooky death images in the façade
A must when you visit Matera is a trip to the Crypt of Original Sin (La Cripta del Peccato Originale considered the 'Sistine Chapel' of the Rupestrian Art. Located 10 kms from the town center you will need a car or taxi to get to the meeting point, a petrol station just 1 km from the cave. After a little drive in the countryside and few steps down a small hill you will enter the most beautiful cave, with several frescos still in good condition dating from the 9th century. For thirty minutes you will listen to your guide talking about its history and explaining painting on the cave. You will be seated on the floor of the cave, so make sure you wear comfortable shoes and a cardigan, it can be quite fresh even in summer time.
On the way back to Matera you could stop at Dragone, few hundred meters from the cave, where you can try typical products and wines of Basilicata (residenza.dragone@gmail.com telf +39-0835-261740)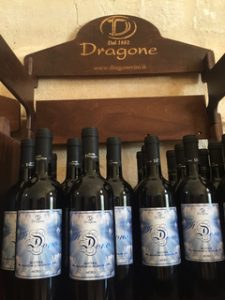 And on the food and wine subject there are a couple of restaurants worth mentioning: Osteria L'Arco  (telf +39-0835-334626) and Osteria Pico ( telf +39-0835240424) both in Sasso Barisano. At the Osteria Pico you most try the pasta 'fusilli ai peperoni cruschi' a delicious vegetarian pasta dish with typical peppers of Basilicata, I wish I ordered two portions!
Matera has been chosen as European Capital City 2019 so just before everybody gets there hurry and book your holiday at this very enchanting place.
More information about Matera in www.infosassidimatera.com or www.dicoverbasilicata.com